'Live on the Edge' with the HTC U12+ featuring Edge Sense 2 for unparalleled one-handed use on a big 6" phone, plus the highest-rated dual camera, USonic personalized audio, and stunning Liquid Surface design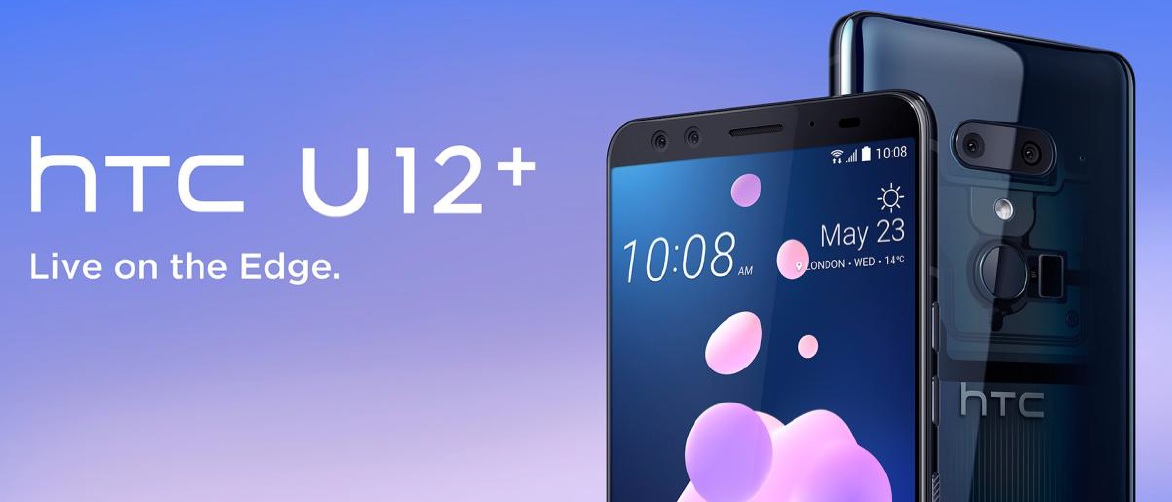 TAIPEI – May 23, 2018 – In its latest showcase of cutting-edge innovation, unrivaled usability, and extraordinary design, HTC today unveiled the HTC U12+. The U12+ is HTC's biggest and boldest flagship phone ever, including a vivid 6" display with cinematic 18:9 widescreen, yet it is also easier to use with Edge Sense 2 for intuitive one-handed interaction for snapping photos, calling up voice assistants, or virtually anything you may want to do. There is simply no other phone as big, beautiful, and easy to use as the HTC U12+.
Features of the HTC U12+ include:
Edge Sense 2:
A new touch feedback experience turn the edges of U12+ into the easiest and most intuitive way to interact with your phone. The new Edge Sense knows which hand you are using, giving you one-handed freedom to double tap to navigate the device, hold to lock the screen orientation, or squeeze the sides for taking photos and videos, zooming in on maps, and virtually any interaction.
The highest-rated dual camera:
Two cameras on the front and back deliver beautifully artistic photos with DSLR-like bokeh. UltraSpeed Autofocus 2 includes full sensor phase detection autofocus and new laser autofocus to ensure you never miss your shot, while HDR Boost 2 lets you take fantastic photos in any lighting condition. The main camera's 2x optical zoom and 10x digital zoom for photos means you are always ready for a close-up, while video with Sonic Zoom lets you "zoom in" on a sound or voice so you are truly the director of the scene. And with one-touch auto zoom, it's almost like you have Hollywood in your pocket. It's so good, the U12+ received a DxOMark score of 103 – the highest rated camera in the industry for a dual camera smartphone.
Best-ever HTC BoomSound, USonic, and Qualcomm® aptX™ HD audio
: Incredible, pulse-pounding sound with louder-than-ever BoomSound speakers and USonic earbuds featuring Active Noise Cancellation to keep out unwanted distractions. USonic matches the unique structure of your ear to shape the sound perfectly for you, so you hear every high note with crystal-clear precision and every bassline with thundering power. For wireless audio that goes way beyond expectations, aptX HD is designed to support high resolution 24-bit Bluetooth audio.
Liquid Surface:
The U12+ showcases an even more artistic design featuring ultra-thin screen borders and new pressure-sensitive buttons encased in vibrant colors unlike anything you've seen. A Translucent Blue color that lets you admire your phone's beauty both inside and out, while Ceramic Black offers a gorgeously sophisticated look and Flame Red delivers extraordinary, color-shifting hues in the most dynamic look HTC has ever created.
Power and performance:
Equipped with the Qualcomm® Snapdragon™ 845 Mobile Platform with X20 LTE that will extend the way people see, hear, and interact with the world around them. It is engineered to shatter performance expectations and connect you at beyond Gigabit LTE download speeds without unnecessarily compromising battery life. With 6GB RAM standard and up to 128GB storage, the U12+ shatters expectations of the power and performance you can expect from your phone. The U12+ is also VR ready for the Vive Focus (where available) with phone call and notification sync, plus mirror mode to turn your smartphone into your own personal VR theater.
The HTC U12+ will be available in Translucent Blue, Ceramic Black, and Flame Red. For more information, please see the following pages or visit
htc.com
.
Freedom to use either hand.
The HTC U12+ redefines how you interact with your phone with a new touch feedback experience. The next generation of Edge Sense knows which hand you are using, giving you true one-handed freedom for either hand. Now, in addition to squeeze, we've introduced double tap and hold. Do things faster and with even more one-handed convenience.
EDGE SENSE 2
DOUBLE TAP for an adjustable mini screen that puts everything in thumb's reach. Set as a back key or as a new navigation bar that lets you enjoy the 18:9 screen with ease.
HOLD can keep the screen the way you want it even when lying down -- no more annoying and unnecessary screen rotations or dimming.
SQUEEZE your phone to take photos, launch voice assistants and bring up Edge Launcher, a customizable way to quickly access your favorite apps, contacts and quick settings.
AND MORE: Edge Sense also works in almost any app in the Google Play Store. Call up Amazon Alexa or Google Assistant2, squeeze to open your favorite social app, use Accessibility Talk Back, and so much more.
Dual cameras on front and back.
With 4 cameras, HTC U12+ delivers outstanding quality imaging and opens up whole new worlds for artistic creativity. Your photos will be amazing and your videos with immersive audio will stand out from the crowd. In fact, the HTC U12+ received a DXOMARK SCORE OF 103, the highest rated dual camera smartphone in the industry.
CAMERA
ULTRASPEED AUTOFOCUS 2 with laser autofocus lets you enjoy unprecedented levels of detail and clarity in the main camera under just about any condition — even when your subject is on the move.
2X OPTICAL ZOOM AND 10X DIGITAL ZOOM frees up your main camera's field of view for amazingly detailed close-up photos.3
HDR BOOST 2 delivers smoother, crisper, more detailed photos with less noise and better dynamic range when the lights are down or glaring.
AR STICKERS let you spice up your photos and videos by adding funny effects and playful AR stickers in real-time.
DSLR-LIKE BOKEH offers our most natural, artistic and captivating soft background effect yet – whether you're using the main camera or taking a selfie.
SONIC ZOOM lets you zoom in on a particular sound or voice in the scene. This improved version is nearly 60% louder and offers 33% more focused sound than available in U11.4 Audio Boost amplifies all the voices and sounds to the max without zooming in the video. Record immersive 3D audio. True-to-life audio will make your videos stand apart from others.
ONE-TOUCH AUTO ZOOM lets you zoom smoothly on the scene, the lighting and sound for the best video production just like on a movie set. It's unlike anything else on the market.
OPTICAL IMAGE STABILIZATION (OIS) AND ELECTRONIC IMAGE STABILIZATION (EIS) gives you clear, stable images when you are on the go. Record 1080p HD video at 240 frames per second (fps) for eye-catching, steady slow-motion videos.
Hollywood in your pocket.
Shoot beautifully vivid and captivating movies no matter your level.
BEST QUALITY VIDEO
Best and brightest sound. Inside and out.
AUDIO
The HTC U12+ delivers sound unlike anything you've ever heard before whether on HTC USonic earbuds or the HTC BoomSound Hi-Fi edition speaker system. Qualcomm ® aptX™ audio technology is designed to support 24-bit Bluetooth wireless audio, helping to ensure you get the very most from your music.
HTC BOOOMSOUND will blow you away with our loudest, clearest and best speakers to date. The separated woofer and tweeter design delivers unheard of power and clarity
USONIC EARBUDS WITH ACTIVE NOISE CANCELLATION automatically and continuously monitor environmental sound levels and quickly adjust to compensate for new noises or disturbances.
ACTIVITY READER keeps you on top of your world by reading out text messages from your contacts, incoming callers and local calendar events through your wired or wireless headphones.
Once again pushing the limits of design.
DESIGN
The HTC U12+ design showcases an even more artistic representation of Liquid Surface featuring vibrant colors are unlike anything you've ever seen.
LIQUID SURFACE represents a total rethink of what's possible to achieve in design. Edge Sense 2, with new pressure-sensitive buttons and a new touch feedback experience, brings the edges to life. Add in new finishes and beautiful color selection, and U12+ delivers the most dynamic look and feel we've ever crafted.
18:9 DISPLAY WITH ULTRA-THIN BORDERS and new 3D glass edges are distinctively beautiful yet more comfortable to hold and view so you can focus on what you love instead of what you don't.
The TRANSLUCENT BLUE color lets you admire your phone's beauty both inside and out. The delicate color gradient with a translucent material gives you an intimate glimpse into the craftsmanship of this device.
Commanding performance
The HTC U12+ delivers industry-leading performance in every way.
POWER AND PERFORMANCE
QUALCOMM® SNAPDRAGON™ 845 MOBILE PLATFORM is engineered to support lightning-fast LTE speeds, stunning camera experiences, and cutting-edge performance. Powering your favorite experiences, the Snapdragon 845 will extend the way you see, hear, and interact with the world around you.
BLAZING PERFORMANCE with 6GB of RAM standard, 64GB or 128GB of storage, and full 4G/LTE support where available, including new dual LTE at the same time on dual SIM models.
DCI-P3 ULTRA WIDE COLOR GAMUT ensures images and colors are rich and accurate. And HDR 10 support for YouTube videos means vibrant imagery will keep you captivated.
FACE UNLOCK gives you a speedy and convenient way to unlock your phone. A simple look is all it takes.
IP68 water resistance means you can use your phone even when there's rain or dust.6 It's worry-free protection whenever the weather takes a turn for the worse.
ABOUT HTC
HTC Corporation aims to bring brilliance to life. As a global innovator in smart mobile devices and technology, HTC has produced award-winning products and industry firsts since its inception in 1997, including the critically acclaimed HTC U and Desire lines of smartphones. The pursuit of brilliance is at the heart of everything we do, inspiring best-in-class design and game-changing mobile and virtual reality experiences for consumers around the world. HTC is listed on the Taiwan Stock Exchange (TWSE: 2498).
www.htc.com