02.10.2013, Taipei, Taiwan – Aerocool Advanced Technologies, one of world's leading manufacturers of excellent gaming PC gear, officially announces the birth of a brand-new product series! Having several great and successful product series for Gamers on the market, Aerocool moves forward to enter the emerging HTPC and Gaming Cube market, by launching the first product of the new "Dead Silent" (DS) Series. Clearly, much market experience and enthusiasm has been invested, in order to create the DS-Cube, which comes with an astonishingly elegant design on the outside and vast possibilities and options for enthusiastic HTPC users and ambitious Gamers on the inside - out of the box!
Tony Lin, CEO of Aerocool Advanced Technologies stated: "Aerocool successfully developed the Gaming PC Chassis market and is now ready to further expand by innovating the small-factor Gaming-Cube market. Our new DS-Cube combines pure elegance with vast features and best usability."
Thanks to the rapid development of technology, more smaller, yet faster PC components are available on the market. Aerocool's DS-Cube, with its elegant appeals and clean design, is the perfect chassis for latest small-form-factor components! Users have the choice between total of six color variations: Starting with the most classical color choices such as completely black and white versions, moving on to more fancy colors, such as gold, orange, red and a black and white mix. But the choice doesn't end here: Users are able to choose between Standard and Window models. Furthermore, each of the models is equipped with a removable and exchangeable top-cover, allowing users to switch between the plain-color version for silence mode and a mesh-design version for improved airflow. Solid SGCC steel with a thickness of 0,8 mm provides the necessary sturdiness and reduces the noise-level. Thanks to its compact size, DS-Cube is the perfect companion to attend LAN-Parties!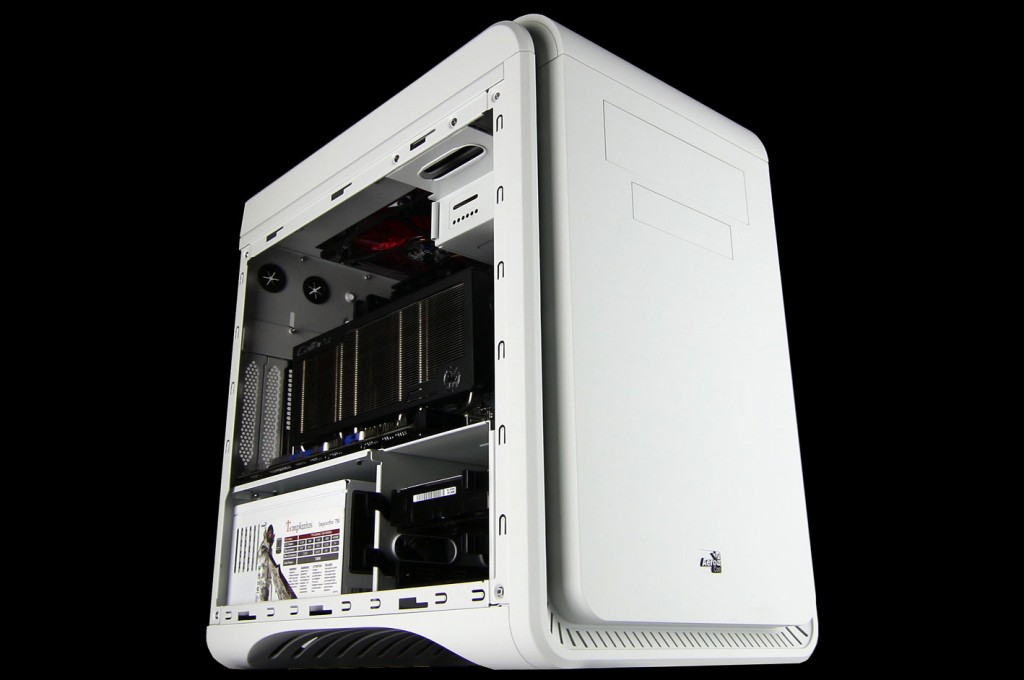 Both top and front panel are leather coated (except GOLD version), which further benefits the elegant design. All buttons, LEDs and the I/O panel have been neatly implemented into the overall design. Power and reset button, LEDs as well as the microphone and headphone jack have been placed on the left side of the top-panel. Two USB 2.0 and two USB 3.0 ports are positioned on the right side of the top-panel.
Aerocool goes an unconventional way when it comes to the inside layout of the DS-Cube! The inside has been divided into three compartments. Very logical division of areas has been put in place, which has special influence on both the noise reduction and the airflow.
Main compartment is offering much space for the high-end components, such as Mini-ITX and Micro-ATX motherboards, VGA cards with a length of up to 320 mm and CPU coolers with a total height of 190 mm. Unlike most on-market Cube chassis, Aerocool DS-Cube is using the available space more efficient by mounting the motherboard in horizontal direction! Thanks to the removable top-panel, even more arm-room is given for the installation of components, offering unchallenged usability! It is furthermore possible to mount one 240 mm radiator inside the DS-Cube's top panel, or outside, using the two pre-drilled holes for water-cooling pipes.
Second compartment is dedicated to hard drives, where enough space for two 3,5 inch Hard Drives or two 2,5 inch SSD/HDDs is available. Easy mounting and access is assured, thanks to the patented and tool-free HDD trays. The third 3,5 inch Hard drive can be mounted inside the main compartment, where the removable 5,25 inch and 3,5 inch bays are located.
Third compartment is offering space for a Power Supply Unit with a total length of up to 160 mm. A removable dust filter underneath the PSU stops dust from getting inside the chassis, while four rubber plates hold the PSU firmly and reduce transfer of vibrations to the chassis. Cables from the PSU can be routed conveniently through to the other compartments thanks to the cable duct holes. Hence allows a more clean and easy cable management.
To deal with heat, generated by high-end components, two axial-fans are pre-installed inside the Aerocool DS-Cube! Both the 120 mm fan with 800 rpm in the rear and the big 200 mm with 600 rpm in the front are selected to suit the "Dead Silent" series! Although spinning at rather low speed, enough airflow can be created, thanks to the excellent and well-thought-out internal design of the DS-Cube. Users are able to make individual adjustment by mounting two 120 mm or 140 mm case fans in the top panel.

All twelve models of the Aerocool Dead Silent Cube are available starting end of October. Manufacturer's suggested retail price starts at 70,99 EUR for DS-Cube Black as Standard Edition and 75,17 EUR for Window Edition. (Prices exclude Taxes.)
About Aerocool
Aerocool is one of the market leaders in the "Gaming Market". Our strong brand and product image are well received by gamers and enthusiasts world-wide. We offer a full line of performance products including gaming cases, gaming PSUs, gaming mouse, gaming headsets, gaming keyboard, gaming headsets, Multi-functional panels and fans.