Can you tell which of these is a Star Wars character and which is a hip hop artist?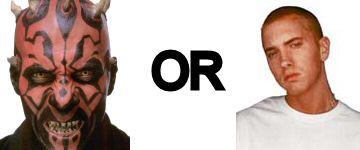 http://www.bbspot.com/News/2005/06/rapper_quiz.php
You scored 7 out of 20.
A Wookiee could've done better than that.
DOH!
also
Rejected Star Wars TV Shows
11. The Fresh Princess of Na-Boo
10. Two Guys, a Girl and a Wookiee
9. Darth Trump's "The Padawan"
8. Touched by a Sith Lord
7. Star Wars: The Next Generation
6. Extreme Makeover: Death Star Edition
5. Survivor: Hoth
4. Emperor Palpatine Controls the Universe
3. Everybody Hates Anakin
2. That Long Long Time Ago's Show
1. Queer Eye for the Jedi