Doom 3 has inspired a fair number of casemods and even more will come, this is my take at it. The general idea is to make a case that looks like some poor unsuspecting machinery that has been infested by Hell.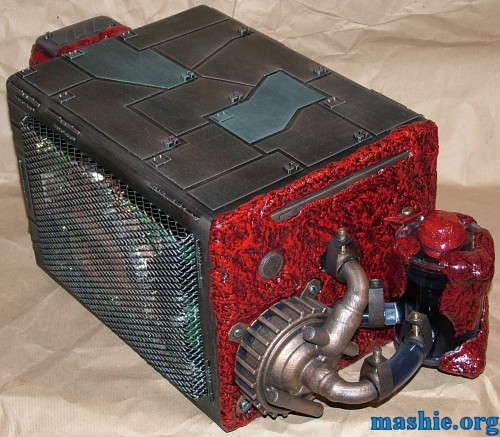 The canvas this time is a Shuttle SK83G that somehow will house the following:
AMD64 3400+
BFG 6800 GT OC 256MB
1GB OCZ Platinum PC3200
74GB WD Raptor
Panasonic slim slot in CD-RW/DVD
Dangerden TDX block with nozzle 5
Dangerden NV-68 block
Laing D4 12V pump
BI Micro radiator (replaced by Thermochill HE80.1)
1/2" tubing just for the challenge.
Ok enough talking about the hardware, let the worklog begin.
http://www.mashie.org/casemods/d3_01.html