Korea-based LG Chem, a mother company of the well known LG Group, aims to be the first in the world to commercialize fuel cell technology to power notebooks. According to the company, it has already completed its development of portable fuel cells and plans to commercialize the product later this year.
LG Chem will probably launch its marketing campaign in one or two months, and the company said that it does not intend to change the design of the fuel cell (see the photo below). The 25W power supply is based on direct methanol fuel cell (DMFC) technology and consist of two parts, a base unit and a removable fuel cartridge.
Different from the concept announced by Taiwan-based Antig Technology at the CeBIT trade fair earlier this year and other companies before, this product works as an external power supply connected to a notebook through a DC-in jack, LG Chem explained. The device weighs less than 1kg, and one 200cc methanol cartridge is enough to power a 25W notebook for more than 10 hours, LG Chem said. The company expects that cartridges will be priced under US$1. The base unit price will be around US$500.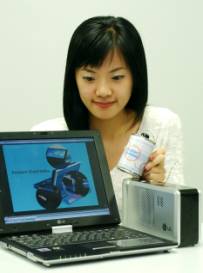 http://www.digitimes.com/systems/a20050929PR206.html