BenQ is likely to begin selling its P50 PDA phone under the Siemens brand name in Europe in late September or early October when the company officially takes over Siemensí mobile handset business unit, the Chinese-language Commercial Times reported today.
The Taiwan vendor is also expected to introduce its first dual-brand BenQ-Siemens handset in February 2006, the paper noted.
As Siemens has not been a strong player in the smartphone segment, BenQ has decided to initially launch its P50 PDA phone under a single-brand, in order to make up for the lack of new products during the four-month period from October 2005 to February 2006, the paper said.
BenQ was not available for comment at the time of publication.
The quad-band (GSM/GPRS 850/900/1800/1900) P50 is powered by Windows Mobile 2003 and features Bluetooth and WiFi connectivity, a 1.3-megapixel camera, mini QWERTY keyboards and a 2.8-inch, 262,144-color TFT LCD display. The P50 was introduced into the Taiwan market in June.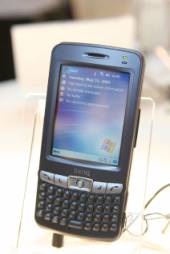 http://www.digitimes.com/telecom/a20050823PR204.html