-
WebNews
(
http://www.madshrimps.be/vbulletin/forumdisplay.php?f=22
)
| | |
| --- | --- |
| Sidney | 22nd October 2005 16:49 |
---
AOpen to launch mini PC in November

Motherboard maker AOpen will launch its AOpen mini PC on November 1, with volume shipments of the Intel mobile CPU-based desktop system to follow in mid-November, according to market sources.
Resembling the Apple Mac mini, the AOpen mini PC measures only 165×165×51mm and has a volume of 1.1 liters. The system will be built around the Intel 915GM chipset and come in two SKUs, with an entry-level Intel Celeron M 1.4GHz model priced at NT$20,500 (US$609) in Taiwan and a higher-end Intel Pentium M 1.7GHz model priced at NT$26,500 (US$788).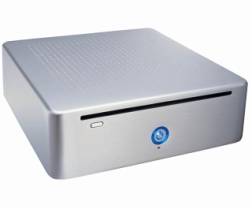 http://www.digitimes.com/Backgrounde...&seq=205&Cat=1
| | |
| --- | --- |
| Sidney | 22nd October 2005 16:51 |
---
Quiet PC solution without big fans - The solution is not treating the symptom but the root cause :)
All times are GMT +1. The time now is

09:34

.
Powered by vBulletin® - Copyright ©2000 - 2021, Jelsoft Enterprises Ltd.
Content Relevant URLs by vBSEO